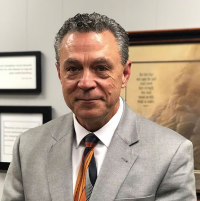 MR. MIKE SORENSON - PRINCIPAL
"Welcome to Mineola High School!" I cannot wait to say that to each and every student as they walk through our doors the first day of school. It is my privilege to start this year as the high school principal. This will be my thirteenth year with the best district in the state of Texas. I am proud to be a Mineola YellowJacket!
The faculty and staff of Mineola High School absolutely cannot wait to begin school this year with our kids back on campus. We have missed them! While these past few months have been hard and unprecedented, as Mr. Mize has proclaimed, this is going to be education's finest hour. We are holding on to that with full confidence that the 2021-22 school year will be the best yet!
Go Jackets!

Sincerely,
Mike Sorenson- Principal