Mark Your Calendars for the following Beginning of the Year Dates: July 29 - Student Placement Letters Mailed Home - letter will include home room teacher, meet the teacher date/times *please make sure Skyward information is up to date with correct mailing address* To guarantee privacy and safety, we do not post class lists or give this information out over the phone. Monday, August 9 - Meet the Teacher - 5:30-7:00 (all grades) Wednesday, August 11 - First Day of School - 7:50

For those Early Birds wanting to plan ahead for school supplies, here are the lists for Back to School 2021!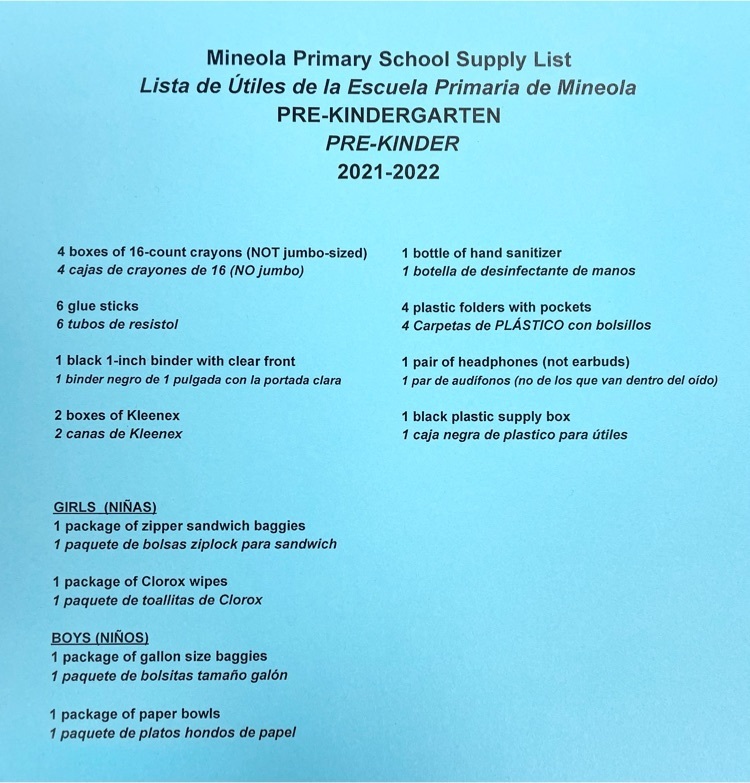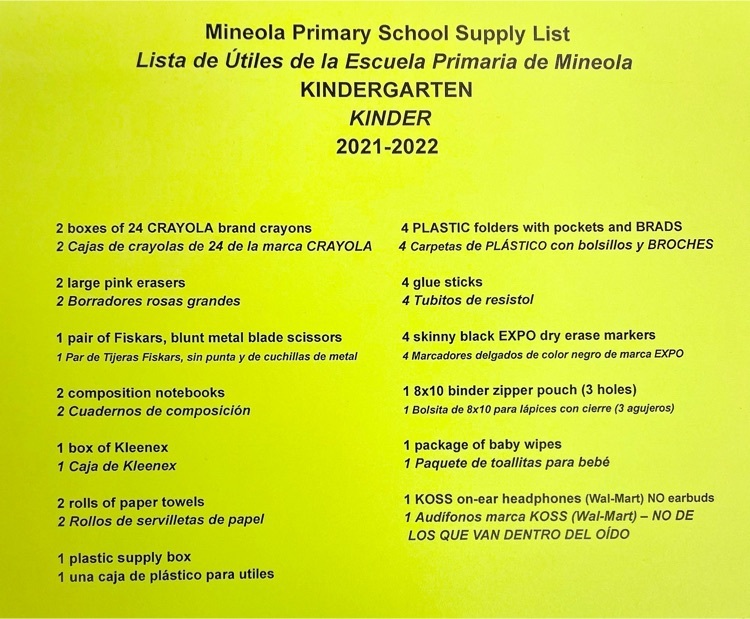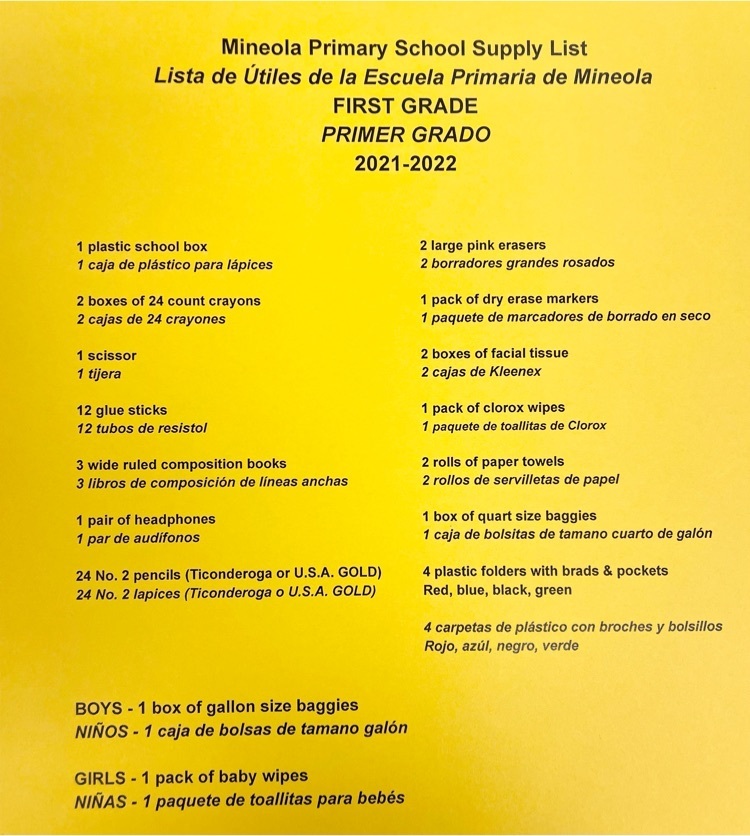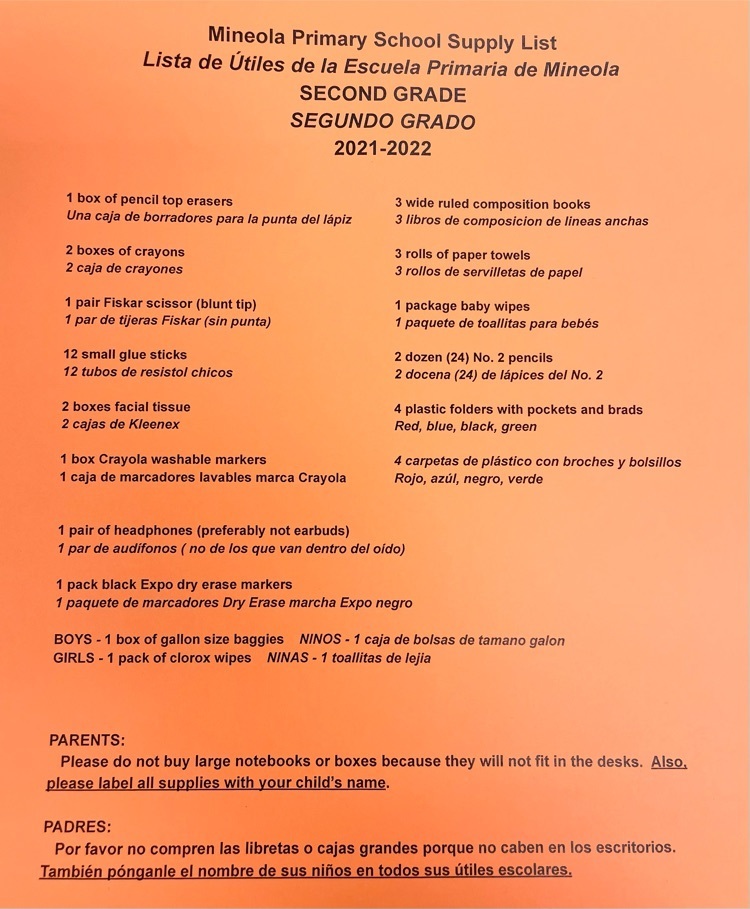 Monday, the 10th, and Wednesday, the 12th, Kinder-2nd grade students will take their end of the year MAP test. While we know our students are ready to meet their goals and are well prepared, there are a few ways to help at home. Make sure students get a great night of sleep the night before, eat a healthy breakfast, arrive to school on time with all they need, and refrain from picking students up early. We will be a closed campus those two days. Please contact your student's teacher with any questions. Our students are goal diggers and will rock their end of the year assessment! Thank you for your help! 🧡🧡🧡

Mark your calendars for next week.....It's Teacher/Staff Appreciation Week! Let's show some love and lift our teachers and staff up during this time! Send a prayer, thank you note, token of appreciation, or kind words. This year has been like no other and our staff has rolled through this year with grace and flexibility. We are extra proud of them ALL!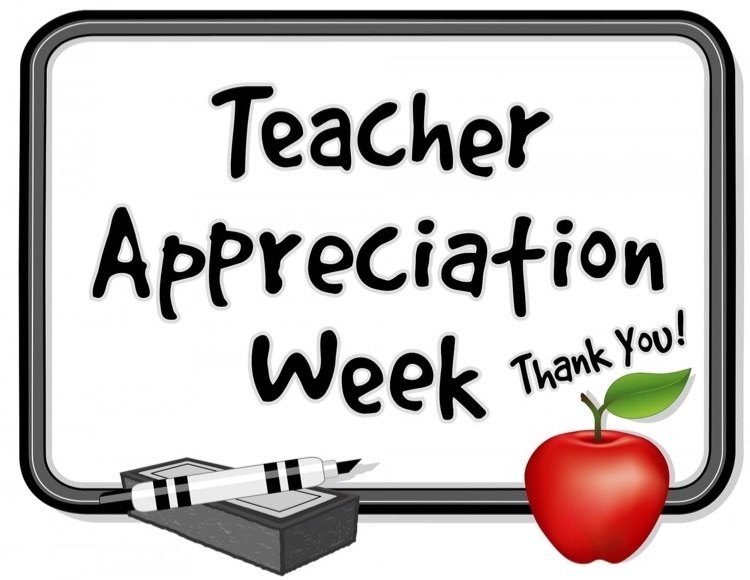 Join us tonight for come and go family walking night from 5:30-7:00! Kona Ice will be on hand, too!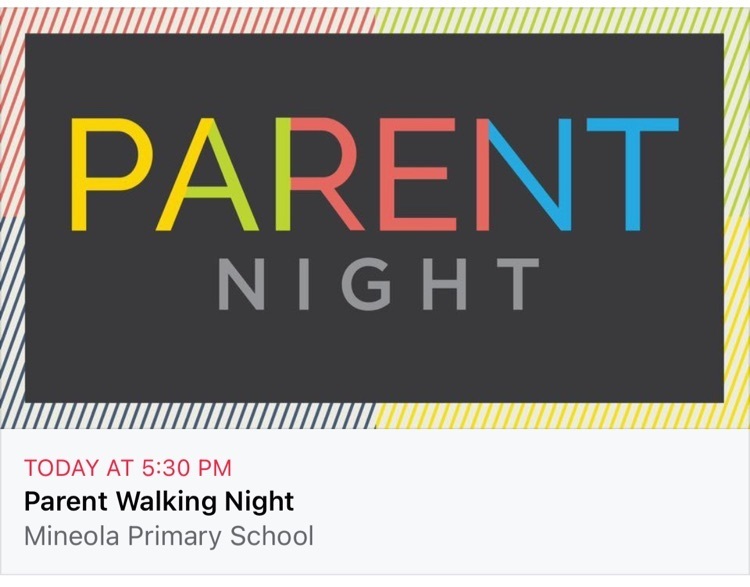 Tomorrow is Easter party day! Please make sure your Little Jacket arrives to school with all they need for the party and the day. We continue to be a closed campus and unable to accept deliveries once school begins. Thank you for your understanding and we appreciate your help. Look for Easter party pictures on our Facebook page this weekend!

Head Start applications/appointments begin April 5 - please call 903-569-0165 to schedule your appointment. We have 1 head start 3 year old class and 2 head start 4 year old classes.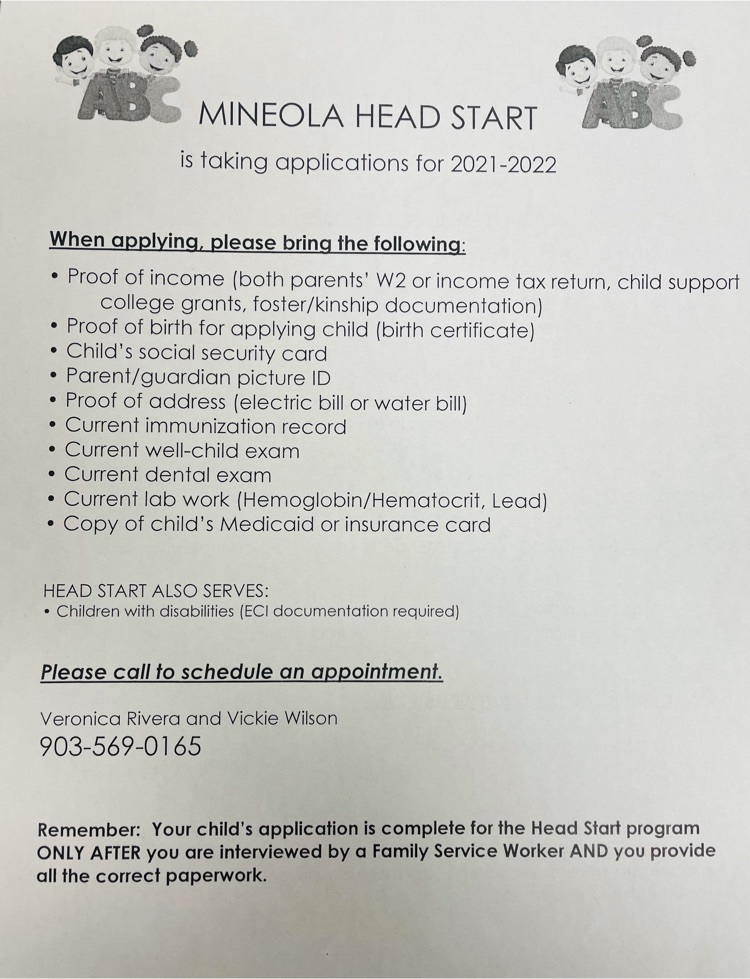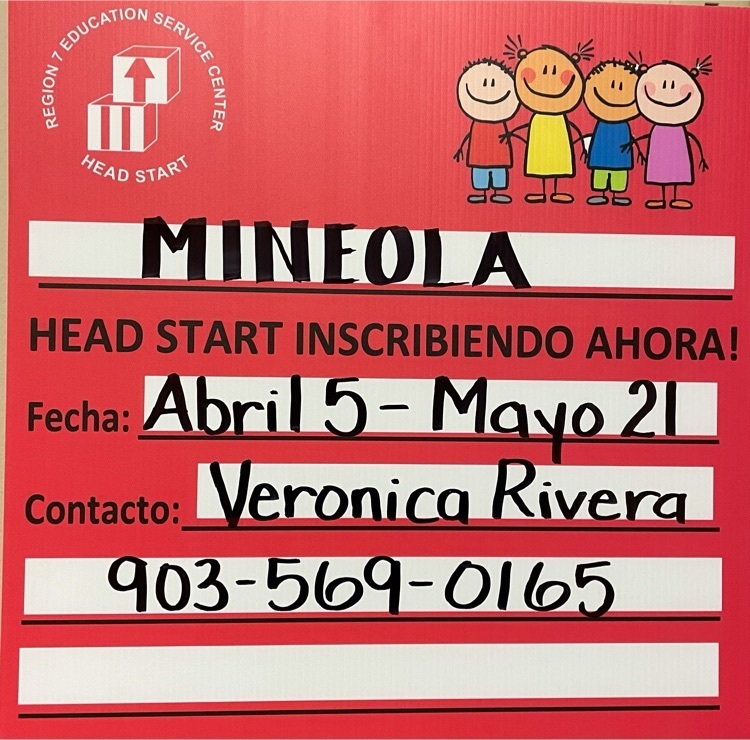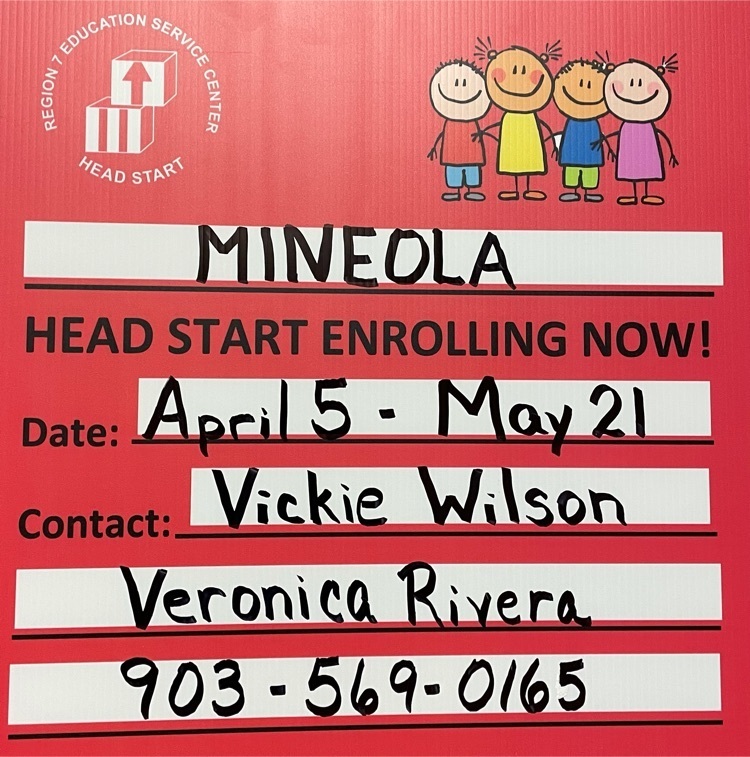 MISD 2021/2022 Calendar has been approved and finalized.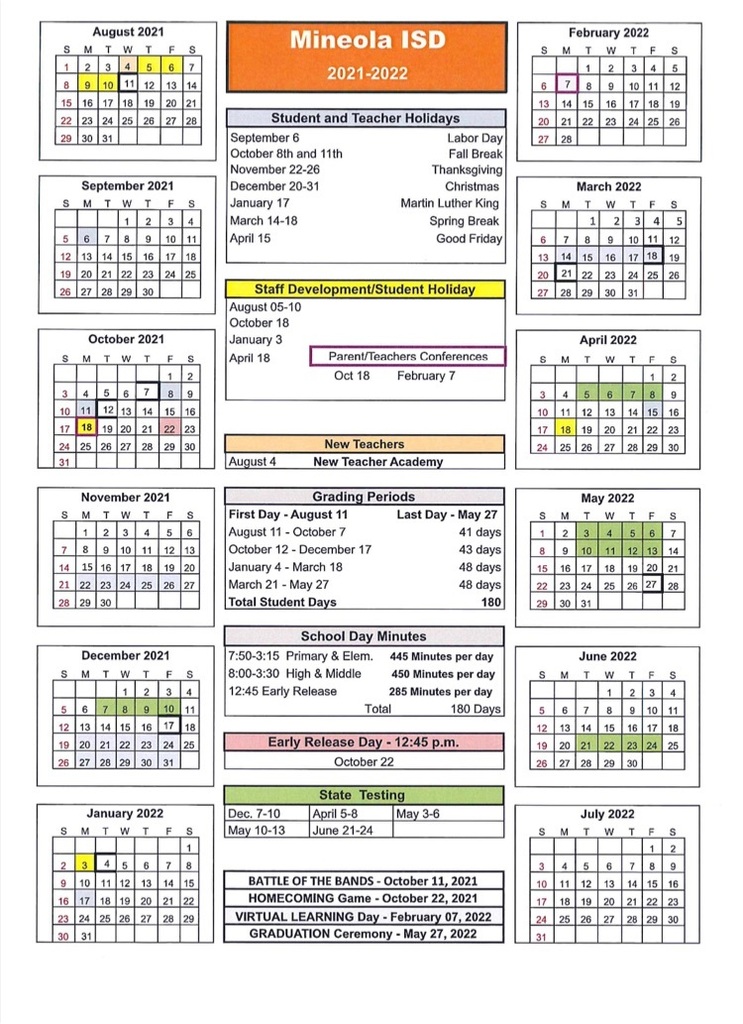 Message from Coach Sam: Here's our update for the Kids ❤️ Challenge! We have one more week, please have all money turned in by Friday, March 5th! There's still time to register if you haven't done so.

Good morning! Due to icy road conditions we will be postponing the start of school today until 10:00am. Please stay safe!

WHAT: Cuentos Familiares WHERE: Mineola Primary School--Room 209 WHEN: Tuesdays, 4:00-5:15 pm. (Los lunes) February (febrero)-9, 16, 23 March (marzo)-2, 16, 23, 30 April (abril)-6, 13, 20, 27 If you have any questions, please call Wendi Gowan at 903-569-5488. Si tiene alguna pregunta, llame a Wendi Gowan al 903-569-5488.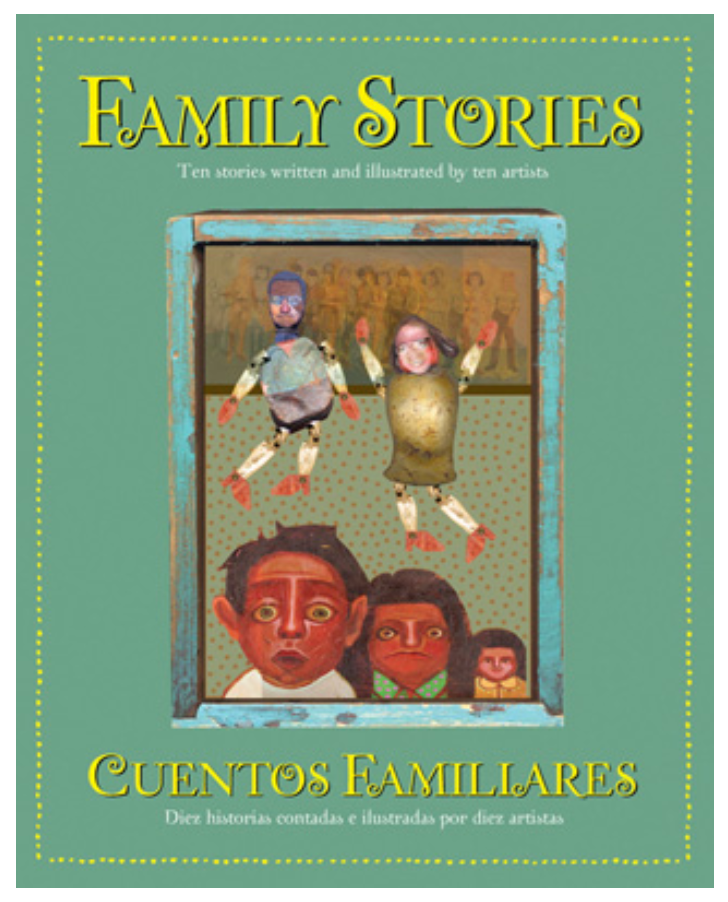 Merry Christmas from MPS to you! Reminder: No school for students Friday, December 18 - Students return Thursday, January 7! Enjoy the Break!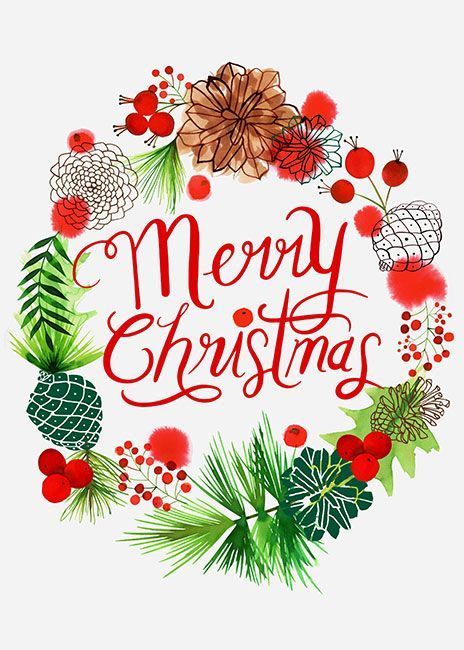 2nd grade UIL Results for Fall 2020


Remote Instruction at Mineola Independent School District Please read the updated Remote Instruction Information from our Superintendent.
https://5il.co/ltqv

Did you know you can report your student's absence using the MISD app on your phone? Just access your child's school by clicking on the orange button at top right. Select the school, then swipe to the right for a list of options. ABSENCE NOTICE is at the bottom of the page.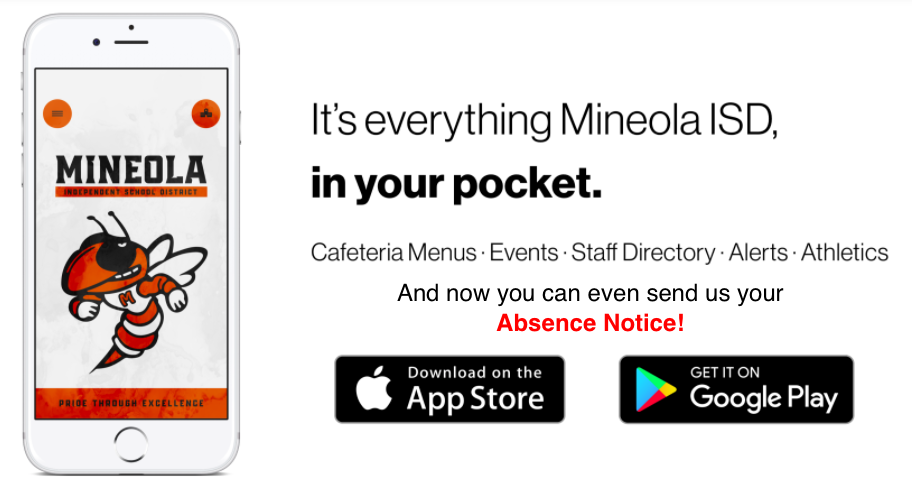 Updated with correct dates! MPS Homecoming Week is fast approaching and we have lots of fun scheduled!

MPS Open House COVID Style! We invite parents/guardians of our Little Jackets to join us on Tuesday, September 15 for Open House (Come and Go). This is a great time for your Little Jacket to show you around their classroom, their school, and show off their work! Due to COVID, only 2 guests per student, all visitors over 10, must wear a mask. Temperature checks and sanitizer are required upon arrival. Social distancing is required.